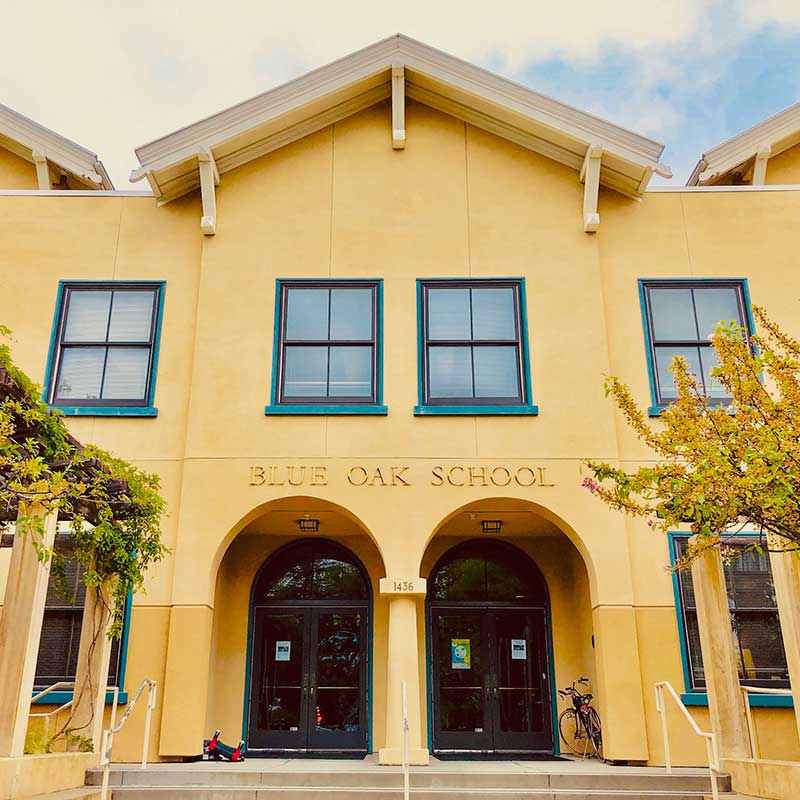 There is nothing quite like experiencing Blue Oak School first-hand.
All of our programs are designed to help you gain a stronger understanding of what a progressive education really means. You'll have opportunities to visit individual classrooms where you'll see our children working collaboratively as they build an amazing block tower, deliver the daily mail to classrooms, help prepare lunch for their classmates, or solve a multi-step math problem. You'll hear them reading to their book buddies, drawing self-portraits and hear the sound of African drums as you pass a music class.
And that's only a small piece of the Blue Oak experience…
Campus Tours
Formal campus tours begin in September and are given during various school days throughout the year. A tour of our school will give you an excellent sense of the daily work of our students and the environment in which they work. Tours typically begin at 9:00 (other times can be scheduled, too) and last between 1 to 1.5 hours. Our individual tours allow parents the opportunity to ask questions specifically focused on their child and/or their family. Our individual visits may be scheduled on a date that is convenient for the family. Please schedule your tour by emailing Meredith Wilson or calling 707.261.4522
Individual Visits
Many parents are more comfortable when they have an opportunity to schedule a personal visit, as it allows them the opportunity to ask questions specifically focused on their child and/or their family. Individual visits may be scheduled at a time and date that is convenient for the family. Most visits to the Lower School take place in the morning, while visits to the Middle School often occur at the beginning or end of the school day.
Open House Programs
Open House programs provide parents with an opportunity to hear from the Head of School, teachers, current students, and parents. Each program is tailored to a specific audience.
Shadow Visits at the Middle School
Students interested in Blue Oak's middle school (Grades 6 – 8) are encouraged to participate in a Shadow Visit. Visiting students are hosted by a current Blue Oak Student and have the opportunity to follow their host's schedule; attending classes, joining in at "refresh" (Blue Oak's recess periods), eating lunch, making art, exploring an elective or just hanging out. Students interested in applying for grade 6th, 7th, or 8th grade will visit with peer aged hosts. Shadow visits are held on weekdays from October – January. Shadow Students should plan on visiting for the whole school day from 8:20-3:20.
To schedule a shadow visit or for more information, email Meredith Wilson, Director of Admissions or call 707.261.4522