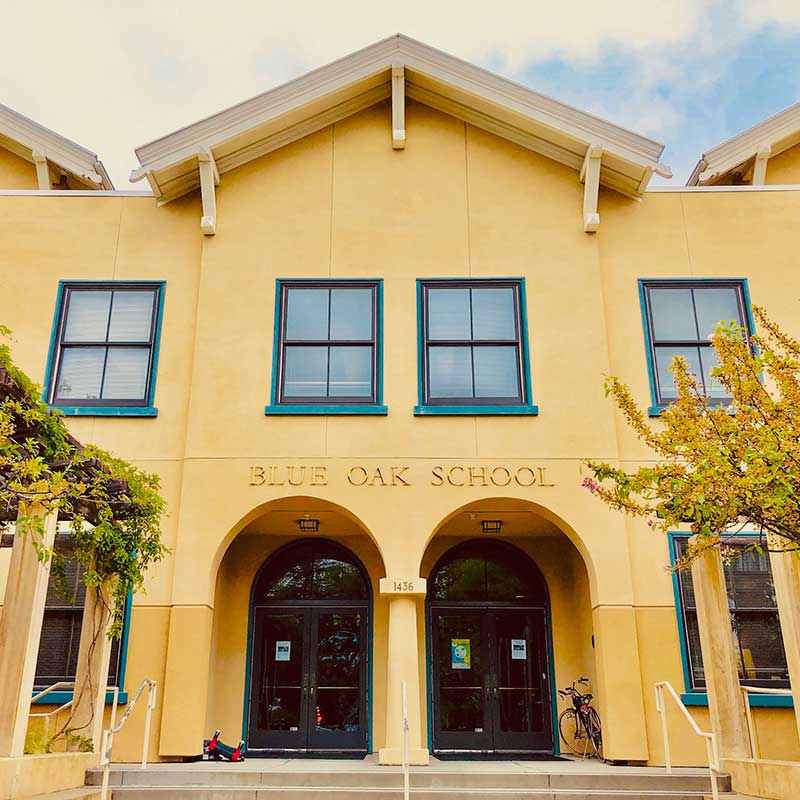 There is nothing quite like experiencing Blue Oak School first-hand.
All of our programs are designed to help you gain a stronger understanding of what a progressive education really means. You'll have opportunities to visit individual classrooms where you'll see our children working collaboratively as they build an amazing block tower, deliver the daily mail to classrooms, help prepare lunch for their classmates, or solve a multi-step math problem. You'll hear them reading to their book buddies, drawing self-portraits and hear the sound of African drums as you pass a music class.
And that's only a small piece of the Blue Oak experience…
Campus Tours
Blue Oak School is an independent, progressive school with a mission that inspires children to discover and develop their full potential. We believe children learn best when they feel inspired. We help children to develop a genuine love for lifelong learning. This goes outside of academics to include empathy, kindness, and respect for others. If this sounds like the kind of learning environment you are seeking for your child/children, come see us in action on one of our tour days. A tour of our school will give you an excellent sense of the daily work of our students and the environment in which they work. 
Typically our tours begin in our lower school library, followed by remarks from our Head of School, a walk-through of the campus and classrooms, and a brief question-and-answer session featuring middle school student volunteers, parents and available faculty. Tours last approximately 90 minutes and are for adults only. We will limit each tour to approximately 6 adults per tour. To sign up for a tour, please complete this form  or call (707) 261-4500. When you sign up, please indicate if you are interested in touring both the lower school campus and the middle campus, or just one. 
Group tours are weekly on Wednesdays from 9:00-10:30am. The following dates are for our group tours this fall and winter:
October 11, 2023

October 18, 2023

October 25, 2023

November 8, 2023

November 15, 2023

November 29, 2023

December  6, 2023

December 13, 2023
Open House Programs
Open House programs provide the whole family with an opportunity to meet the Head of School, teachers, current students, and parents. We look forward to welcoming your family into our school community to spend time touring both our Lower School and Middle School campuses. Your family will have the opportunity to immerse yourselves in our progressive curriculum and have the opportunity to see the building plans and the construction in action for our new middle school campus in downtown Napa! We look forward to sharing the Blue Oak difference with you!
Fall Open House: Saturday, November 4, 2023 from 10:00am-12:00pm – RSVP: Eventbrite Link coming soon
Winter Open House: Saturday, January 21, 2024 from 10:00am-12:00pm – RSVP: Eventbrite Link coming soon
Spring Open House: Thursday, APril 19, 2024 from 4:00pm-5:30pm – RSVP: Eventbrite Link coming soon